5th Annual Oregon HEMPFEST
June 2019 – 15th-16th
18183 ELKHEAD RD – OAKLAND, OREGON 97462
2019 POSTER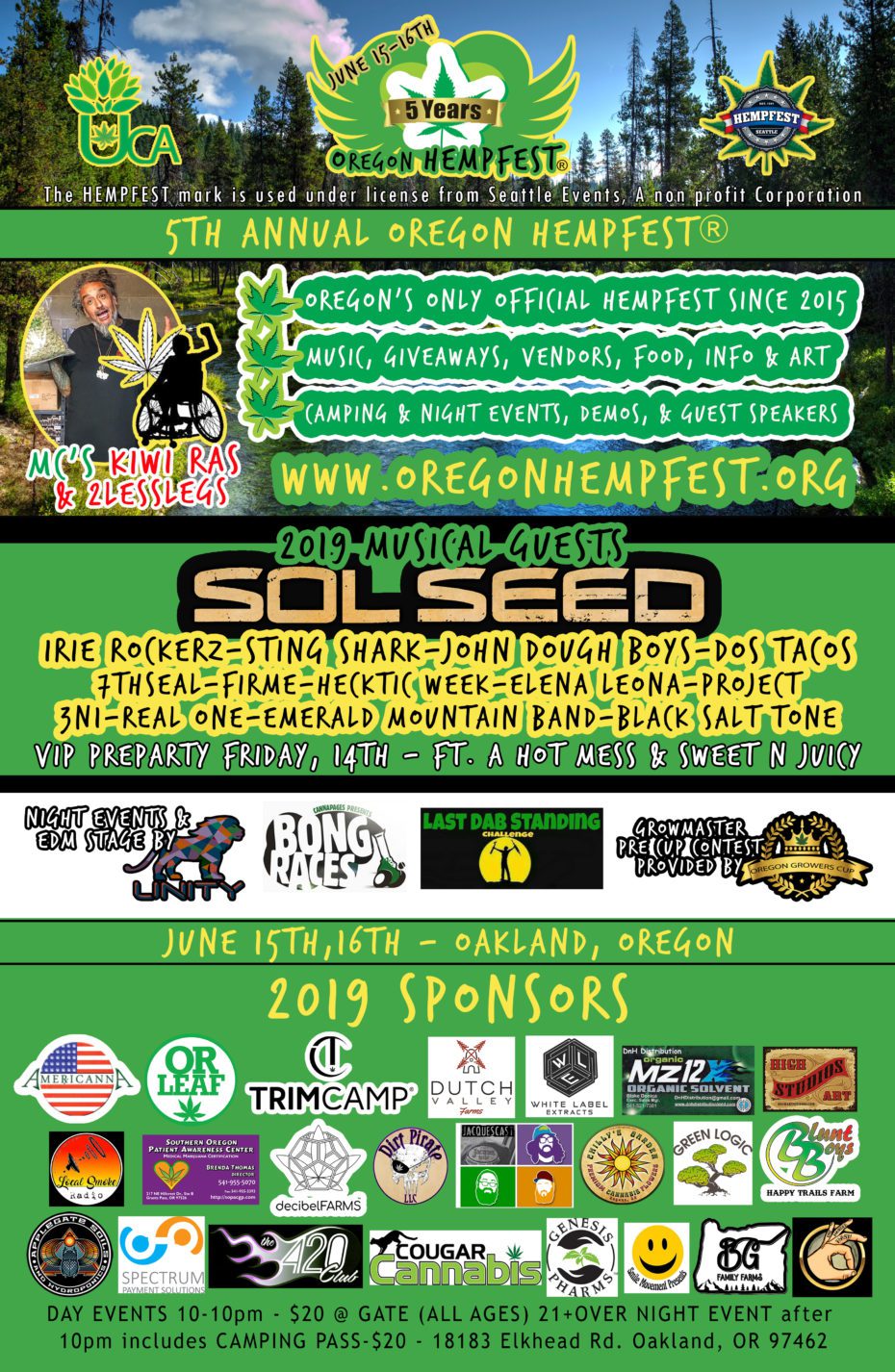 5th Annual Oregon HEMPFEST
18183 Elkhead Rd, Oakland, OR 97462
Saturday, & Sunday :June 15th,16th, 2019
Gate opens at 10am on Saturday
***Friday June 14th Pre Event with Early Camping for VIP, Vendors and Sponsors***
Main Event Hours – 10am-10pm Saturday & Sunday
Night Event (Camping) Hours – 10pm Saturday & Sunday
$20 1x Single Day Pass
$20 1x Single Night Pass (Includes option to Camp)
$60 ALL ACCESS WEEKEND DAY AND/OR NIGHT PASS
$100 VIP Pass (Includes Access to Friday Pre Event+Weekend Pass,+Swag Bag+VIP Area)
All Ages 9 and under FREE with Guardian
After 10pm you must have a Night Event/Camping Pass and be 21+ and over for overnight camping and the night events.
Car and RV camping is allowed.
***Product Raffles & Giveaways from our Sponsors***
***Vendor Booths, Food and live Music***
***Live Art Walls by Pushing Paint***
***4:20pm Giveaway Event – Sat.&Sun***
***Growmaster -Grow from Clone Comp- Oregon Growers Cup***
***VIP/VENDOR/SPONSOR Pre Party Friday Event***
***Last Dab Standing & Bong Races***
***EDM Night Event Dome & Hemposium***
***Xtra Large Teepee's***
***MORE TBA!***
Main Stage Schedule!
Friday Pre Party (VIP, Sponsors & Vendors Only)
4:20pm – Gate Opens
Musical Guests TBA
2019 MUSICAL GUEST
Dirty Revival
Sol Seed
Irie Rockerz
Sting Shark
John Dough Boys
Dos Tacos
L.S.D.
My Happy Pill
Firme
3n1
Elena Leona
Hektic Week
Protekt
+++MORE TBA!
Guest Speakers (MORE TBA)
+ John Sajo-Executive Director Umpqua Cannabis Association +
+ Madeline Martinez – Portland NORML+
+ Anthony Taylor – Compassionate Oregon +
+ Brenda Thomas – So. Oregon Patient Awareness Center +
+ Sean Beaman – Genesis Pharms +
+ Pioneer Pete – Sun Grown Growers Guild +
+Vendors +
Food Vendors
Glass Vendors
Hydroponic Supplies
Growing Supply Booths
Informational Booths
Art & Craft Vendors
Hemp Product Vendors
OMMP Medical Information
Cannabis Law & Services
+++2019 FESTIVAL UPDATES+++
*VIP Pass and Friday Early Access Party – Main event is on Saturday and Sunday with Camping allowed both days for 21+over. VIP Pass holders, Sponsors and Vendors will be allowed to setup and attend the Early Access Party and Camping on Friday June 14th. (*Musical Guest TBA)
*Quite Camp – We are expanding the layout for this year to accommodate those that want to have a quite night and those that don't. 🙂 The night event dome and the main camping will be separated.
*Location – 3rd year at the same amazing location! We are working on improving layout design this year with additional areas and special surprises!
*Tickets – Large scale events and festivals have increasing costs to cover but we are dedicated to keeping the costs down for everyone. We have kept the same ticket price since 2015!
***ARTISTS, SPONSORS & VENDORS***
We are now accepting vendors and sponsors for the 2019 festival. Please visit our website or contact us via email or contact form on our website. umpquahempfest@gmail.com
The Oregon HEMPFEST® was started in 2015 and is the First Licensed HEMPFEST® outside of the original Seattle HEMPFEST®. OUR CORE mission is to promote the legal and medical cannabis industry. Two non profits receive a portion of event proceeds; Umpqua Cannabis Association and the Seattle Events Non Profit.